Janome Memory Craft 7700QCP Sewing and Quilting Machine
The Janome New Home MC7700 QCP has some eye-opening features!
It boasts a free arm.
11 inches of work space (the 6600P has 9 inches).
An automatic plate converter for straight stitch sewing.
Accufeed.
250 stitches.
A high visibility LCD touchscreen.
Sewing speeds of 1,000 stitches per minute.
Five ultra-bright LED lamps.
Superior Plus Feed System.
It's the machine you've been waiting for. This is truly the ultimate sewing and quilting machine.
Key Features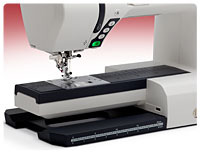 Foot Long Free Arm.
A big arm for big projects. This is the longest free arm on a Janome machine.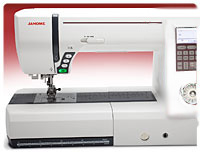 11-inch x 4.7-inch Work Area.
You have more space for big quilts, slipcovers and window treatments.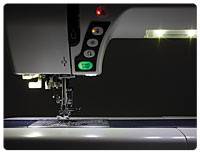 Shadow-Free Sewing.
You have to be able to see what you're doing. Good lighting reduces eyestrain so you can sew for hours and not feel tired. The 7700 has 5 ultra bright LED lamps in three locations across the machine.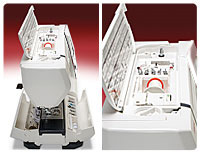 Double Accessory Bins Plus Upper Storage.
Lots of places to store all those standard accessories.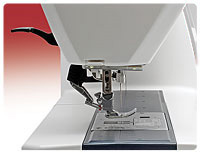 AcuFeed System.
The AcuFeed system feeds the top fabric layer in perfect sync with the bottom layer. It is effective on everything from thick quilt sandwiches to fine heirloom fabrics.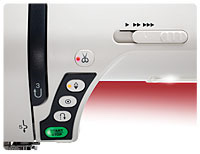 Sew Up To 1,000 Stitches Per Minute.
The 7700QCP is fast, sewing a straight stitch up to 1,000 stitches per minute. Yet each seam is made with beautiful accuracy. Whatever speed you choose, you feel in complete control. For intricate work, there's also a slow start/stop function.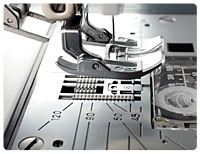 Superior Plus Feed System.
Say goodbye to puckering, shifting and slipping. SFS+ is a Janome engineering exclusive. It combines a patented advance cam mechanism with unique 7-piece feed dogs that stay parallel as they move up and down to maintain constant contact with the fabric. This 'flat feed' method has always been standard on the highest level Memory Craft machines. The tradition continues with its inclusion on the JNH MC7700.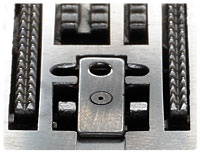 Automatic Plate Converter (APC).
Activated on three main straight stitch options to create a single round needle hole. Makes straight stitching more precise than ever.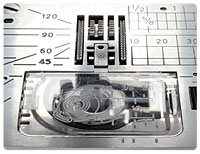 Innovative, Patented Needle Plate Markings.
More of everything: angles, needle drops, cornering guides and seam lines. Do complex measuring right under the needle.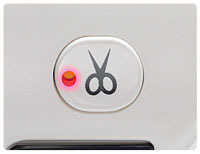 Automatic Programmable Thread Cutter.
Trims tails to less than half an inch and pulls needle thread to the back.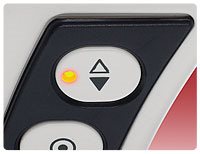 Memorized Needle Up / Down.
Save time as you go from seam to seam.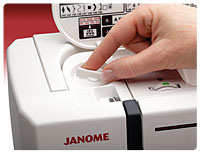 Extra Foot Pressure.
It's important for the presser foot to have enough force to keep the fabric from slipping. The 7700 gives you seven levels of professional-grade pressure from which to choose.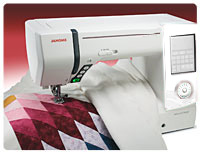 Rigid, Die-Cast Aluminum Body.
The 7700 is as solid as a rock, even when sewing at high speeds.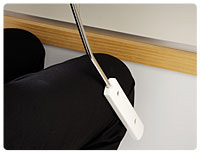 Adjustable Knee Lifter Is Standard.
Sometimes you need both hands on the fabric when you raise the presser foot. The Knee Lifter lets you raise the presser foot with your knee. The handle adjusts to your most comfortable position.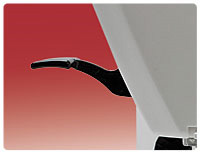 Extra High Presser Foot Lifter.
Easily accommodates layers of fabric.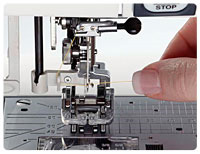 Built-in Needle Threader.
Thread your needle with the push of a button.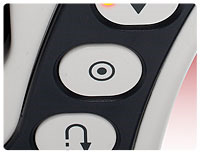 Lockstitch Key For Perfect Finishing.
Auto thread tie-off can be programmed into stitch combinations.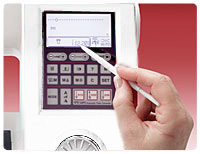 High Visibility LCD Touchscreen With Stylus.
Use your finger to navigate or touch the screen with the stylus.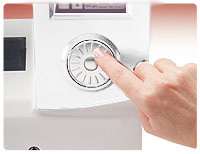 Tactile Jog Dial.
Spin forwards or backwards through your stitch choices. It's as fun as it is functional.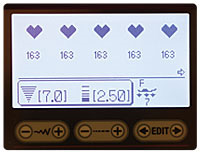 250 Stitches To Play With.
You can choose from 250 stitches, including 11 buttonholes and three monogram fonts. The hundreds of stitches are arranged in 11 groups for easy reference. Typical groups are Heirloom, Quilt, Appliqué, Pictograph, and Play. You'll also find candlewicking, hand-look quilting, and new ribbon border stitches.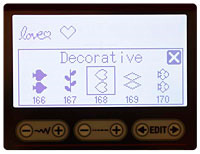 Save Your Stitches In Twenty Memory Banks.
You can combine stitches on your machine to create original designs all your own -- up to 50 characters long. You can even program a lockstitch at the beginning and end. Twenty memory banks provide plenty of room to save them. Retrieve your stitches with ease at the touch of a button.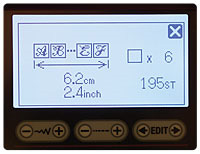 Pattern Stitch Length Calculation.
Size decorative stitch combinations to perfectly fit a given space.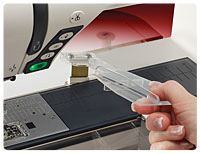 Exact Seams Without Measuring.
Simply set the machine's manual Cloth Guide (Optional) to your seam width and save a lot of measuring and marking. It attaches to a track on the back of the bed. It is set using the convenient ruler/scale markings that go all the way up the arm. The Cloth Guide can even be used with the extra wide table (an Optional accessory).
Additional Features
250 Stitches and 20 memory banks.
11-inch x 4-inch work area with an extra long free arm.
Navigate via LCD screen or tactile jog dial.
Acufeed System moves layers in perfect sync.
Automatic Plate Converter (APC).
Quilt Piecing System is an amazing synergy of precision.
Full length measuring markings on arm plus needle plate angles, cornering guides and needle drops.
Included Accessories
1/4 inch seam foot O.
Automatic buttonhole foot R.
Blind hem foot G.
Border guide foot.
Button sewing foot T.
Convertible free motion quilting foot QB-H.
Cording foot H.
Dual feed foot AD.
Open toe satin stitch foot F2.
Overcasting foot C.
Overedge foot M.
Rolled hem foot D.
Satin stitch foot F.
Zipper foot E.
Zig zag foot A.